How To Break 80: Short Game DVD
"Discover The Quick And Easy Short Game Secrets That Will Leave You Tap-In's…Finally Playing Like A Real Golfer"
Find out how to get your buddies shaking their heads in disgust at you, secretly cursing you and hoping you never play in their foursome ever again!
From: Jack Moorehouse
Dear Friend,
I'm concerned. We've been putting together some great DVD's recently but it seems the majority of the market only wants to know how to hit the ball long and straight.
It's ridiculous, I know, but that's the only thing these days that excites the average golfer. Distance. Nine of ten golfers don't give a hoot whether they shoot 90 or 190, as long as they can launch towering drives just like the Pros do.
And we can teach you how to do that. In fact, check out the Driving DVD if that is your fancy. And, yes, it's fun and all… but really, it's NOT the most important part of your game.
So here's my concern: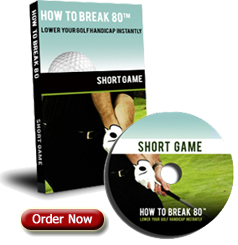 I am sitting on what I consider the BEST instructional golfing video I've ever seen.. and I'm afraid most golfers won't put it to use. Why? Because it's not about hitting longer drives.
If you are reading this message then I know you're serious about improving your game…most readers of my "Go Low" Ezine usually are. I'm often asked "what's the fastest and easiest way to improve my scores?" Simple…get up and down more often. In other words, chip and pitch the ball as close as possible to the hole. In case you missed the importance of short game, I went over the program and techniques in great detail in my book and also most recently some new concepts in my Special Report "How To Drop Seven Shots In Seven Days".
Beyond realizing how crippling a poor short game can be, consider these irrefutable facts:
FACT #1:

The average golfer takes 43% their shots with their short game!

FACT #2: You will NOT hit every green in regulation and therefore need to get up and down. (The average golfer only hits about

3-4 greens in regulation

per round so that's roughly 14-15 up and downs you need!)
FACT #3: The s

hort game is much easier to learn

and master than the longer parts of the game such as full swings. (You don't need to have a ton of power.)
And, at the end of the day, your score is how you, and everyone around you, measures your game.
Once again, as in my previous best selling DVD's, I've teamed up with one of the best golf instructors in the country, Bobby Eldridge. Don't know who Bobby is and why I've teamed up with him? Bobby's taught over 3,500 clinics and over 70,000 individual lessons. This guy has had his own golf school for over 20 years in five states, Minnesota, Illinois, Colorado, California and Arizona, teaching over 30,000 students. He's also Director of Instruction at Starfire Golf Club, Scottsdale, AZ. Bobby has seen it all and is regarded as one of the best golf instructors in this country. He's taught celebrities, Presidents of the U.S. and tons of top business executives.
We have put together a comprehensive break down of the entire short game process. This system unlocks hundreds of secrets about short game fundamentals covering the grip, setup, stroke, club selection, different lies, mental techniques and much more. And best of all, it"s designed to deliver all this to you with the absolute minimum amount of effort on your part.
You already knew that the average golfer shoots well over 100, and now you realize that more than 40% of these strokes take place around the green. So, if you're like most players, you'll drop more than 3-5 shots off your game by a mere 10% improvement in your short game. And that's only for starters…
You'll learn a simple technique that doesn't require any extraordinary physical talent, yet consistently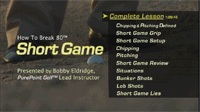 produces EXTRAORDINARY RESULTS!
What sets this program apart from the rest? Simple, it breaks down the entire short game process into its most fundamental elements, providing you with everything you need to succeed.
But you won't be knocking yourself out with endless practice trying to deliver that little white ball to the bottom of the cup. Instead you'll learn all the secrets you'll need to become a better short game inside How To Break 80's new Short Game DVD.
So, here's the deal: We've put together 10 compact and amazingly simple lessons on the short game for you (they only average about 4 minutes). All the fundamentals are covered, even as you learn our unique system for every component of the swing. And each lesson is exclusively designed to ratchet these techniques directly into your brain by using state-of-the-art technology… We really took this critical instruction to a whole new level.
Using slow motion, high definition cameras and running each swing through professional swing analysis software– each lesson is exactingly presented from multiple angles, allowing them to lock into your head permanently.
Listen: The BEST professionals only hit about 13 greens in regulation in any given round. And even your better-than-average guy with a 10 handicap only hits about 5-6 greens out of 18 in regulation. ("Regulation" means, of course, that you allow for two putts on every hole… so you have two strokes to hit the green on a par 4, one stroke to hit it on par 3s, and three strokes to hit the green on a par 5.)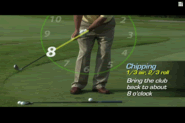 The vast majority of golfers out there have trouble hitting the green from 10 yards out. Or, worse, even if they DO hit the green on a chip shot, they can't make their ball STAY on the green. You know, I'm sure, the pure gut-wrenching agony of landing a shot near the pin, only to see the ball continue to roll and roll until it drops off the far edge (often into a bunker just to make your day even more miserable).
Well, guess what? I'm here to tell you that in just 42 short minutes, you can learn ALL the tricks and secrets of the professional short game. It's really that simple. And that means you'll finally be able to…
Place your ball within feet of the pin from 40 yards out every time!
Stop "scooping" your chips and pitches (like 99% of all golfers do) and start nailing every short shot with a consistent and reliable swing that forces your ball to land softly with controlled roll!
And– you will finally be the complete master of your chosen wedge– this is what the pro's rely on for a solid short game!
The plain truth is, you could muff every tee shot and half your putts and STILL beat everyone else for the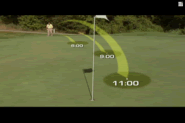 round– just by using these short game secrets!
And if you're driving and putting well, you'll just demolish anyone who dares to bet against you.
And that's what golf is all about. Playing at the top of your ability, and looking good doing it.
It's really fun, too. In less than an hour, you can finally master:
The 4 simple secrets of perfect short game control! (HINT….It has to do with playing the ball in the center of your stance, shifting your weight to your front leg, setting up with your weight forward, and not "flipping" your hands– very simple and easy tips that bring immediate results.)
How to control the tempo of your swing and why it creates pinpoint accuracy! (So instantly accurate, you'll even be able to practice in the living room… and never hit a lamp or knock a picture off the wall!)
Why the best stance for short pitches and chips isn't really "open" or "closed"… but a very comfortable and natural stance that will fit you like a glove! (You'll never be uncomfortable making a shot again!)
How your alignment is the key to getting up and down every time from anywhere on the course! (The trick is to NOT concentrate on the pin!)
How to eliminate those annoying thin shots across the green! (This trick alone will shave half a dozen strokes off your next round.)
The simple "pinched" grip that will guarantee you make a perfect swing every time!
And much more…
Here's an outline of the specific sections we'll cover. Our Short Game DVD includes 10 Chapters in the Complete Lesson:
The bottom line is… what do you care what the rest of the golfing world does? They're all going to stay in their little golfing ruts forever, most of them never figuring out the secrets that really work, never improving, never getting to really enjoy the game. Let them suffer. They will never be a truly good golfer.
You, on the other hand, have the love of the game and the will to become the best you can be. That's why you're reading this letter in the first place– you're not like the "rest of the golfing world". You know there are secrets that will open up the pro game to you. You know that a video can change your life, forever…if it simply reveals the honest secrets.
I want to make this a complete no-brainer decision for you and make sure you are absolutely ecstatic when you purchase this DVD. With your purchase

TODAY

you get:
Bonus #1:

Transcription of the DVD

.This is the DVD in PDF format, so you can study it, take notes, or take it to the range while you practice. It lays out all of the fundamentals, and word for word describes the DVD. A $37 value.

Bonus #2:

Downloadable MP3 Audio of the DVD – Short Game.

Reading

+ Listening = Better Retention.

You can listen in your car, on long drives and on your way to the course. Download the soundtracks to your

IPOD

or mp3 player so you can listen on the go. (I like to listen to audio when working out, or better yet, when I'm practicing on the range). A $19 value.


Bonus #3:

"Fit to a Tee", a 17-page booklet. Discover the missing link to playing your best golf. Mike Peterson's guide will give you the basics behind the secrets of golf conditioning. Once you find out how simple it is to apply golf fitness to your lifestyle, you will be amazed how quickly you'll catapult your golf performance! A $45 Value­­


Bonus #4:

"One-Time Ridiculous *Discount* on the "How To Break80 Program"                           

For those of you who don't own my How To Break 80 Program already, today's your lucky day because I'm going to do something I've never done before. As part of your purchase for the short game DVD, you'll be able to get my complete system for a fraction of what it normally costs.

 
Physical Manual &Audio CD's


The physical Break 80″ manual will be shipped immediately to your home or business and we'll include the audio CD's as well.   This package is your complete guide to not only breaking 80 but playing your best golf ever.  It is a system that you can use for repeatable and reliable results. The "How To Break80″ manual and audio CD's in conjunction with the short game DVD will have you going low quickly and put more fun back in your game!

The book normally sells for $49 and the audio program is $29. That's $78 in total. If you order the short game DVD today, have my entire program for just $39. Yup, you heard right. $39 for both the manual plus the audio CD's. Call me crazy but I think this is the best offer you have ever seen from me.

Total Value of all Bonus Material $175

If you don't go out and drop another 7 strokes off your average within 2 rounds…then…I refund the entire purchase price.  So just for trying it today, I'll give you a 90 day money-back guarantee from the date of your purchase!  No questions asked.
That means you could keep it for a week or dust if off nearly 2 months later and get your money back.  It's just that simple.  You simply try it…RISK FREE. You have absolutely nothing to lose. So it's yours for only $29.99.
< And I'll guarantee your satisfaction personally. Just get this video, and see what amazing secrets it holds. Try them out in your own game, whenever you get the chance. And, if you're not 100% happy, just send the DVD back, and I'll rush you a complete refund. No questions asked, and no hard feelings either.You can use your credit card or PayPal – it's fast, safe and 100% secure..ten times more secure than using a credit card at your favorite restaurant! Private lessons cost upwards of $100 to $200 each…and you don't get the whole story in a single lesson. This DVD contains EVERYTHING you need to know…yet it's not even an hour long. It's the best deal, dollar for dollar, you could ever hope for–and averages out to only about $5 for each stroke you slash off your game!Just click on the below button and it's yours for just $29.99.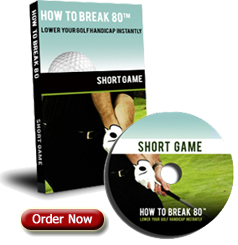 Now, here's how your guarantee works: Watch the DVD. Let the lesson "sink in" as you watch. You can even do a little practice, if you like.Use what you've learned when you do go out the next time. (Learning this way, before you go out next time, will allow these secrets to "cook" inside you… so when you do use them, they will just be there, like "magic", all settled and cozy in your mind.)Now, if you DON'T slash ANOTHER 7 strokes in your next 2 rounds of golf, or on any round after that within the 3 months… then I insist you send the DVD back to me (with your scorecard)… and I will credit your money to you promptly.That means, if you choose… Your entire "secret" lesson will be FREE.  You don't risk a penny giving this amazing breakthrough in low scoring a "look see" yourself… not a penny.So don't pass up this great deal – you risk absolutely nothing and you'll receive the bonuses completely FREE… Sincerely,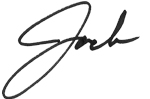 You have mentioned several times about breaking 80, and for the first time after about two weeks of reading and practising your methods I went out to play a Stroke Event at my Golf Club and came home with a 76 off the stick, less my handicap of 14, a net 62!! Wow!! My best score so far (my handicap reduced to 12).
I wanted you to know that my handicap has been 12 for some years now, after seeing the dvd my game has improved by 7 strokes for sure and still is improving
Just back from my best round ever, I shot 86 on a course I had never played before. I was shooting north of 100-110. Before I saw the documents you supplied I was happy to score 95-100. Within a few months of using the advice from your DVD, the result is speaking for itself. I have taken about 5-10 shots of my scores in a short space of time.
The DVD arrived last week. Your instruction is easy to follow. The results are great.I had my best round yesterday for around 5 years. Already there is alot more consistantcy in my swing.The best part is I have confidence in the swing and know what I am doing.
After seeing the first twenty minutes I am impressed because you are showing me in slow motion what I haven't been able to pick up with other instruction. I have had four lessons from two great professionals but I don't get to review my lessons.
To my astonishment, your DVD was delivered here in Scotland between 9.30 and 10am (UK time) today, Saturday February 11. This is astounding service. I had expected a delivery time of ten or even fourteen days. You've done a wonderful job in your explanations – far better than most teachers I have seen and heard on TV or video. This is how instruction should be. Congratulations! Please accept my heartfelt thanks and my best wishes.